So let's talk ice cream. It's a perfect cool-down treat for those hot summer days. Or honestly, a great dessert anytime.
Just because you live gluten free doesn't mean you can't enjoy a scoop or two.
My suggestion, though, is to stick to the big, more well-known brands. They have more options when it comes to flavors and are easier to find in stores. Plus, they don't have a crazy price mark-up just because they're gluten free.
If you're looking to save a few bucks, I have a post that focuses on saving you money at the grocery store.
Be careful with ingredients and avoid flavors with the obvious gluten-containing ingredients – cookies, cookie dough, pretzels, brownies, graham crackers, cake.
** Don't think that just because you can't buy GF cookies & cream off the shelf doesn't mean you can't have it. I like to get creative and make my own. Lightly soften a quart of GF vanilla ice cream, put into a mixing bowl and add crushed GF version of Oreos. Stir until well incorporated then add back to the container. Our favorite Oreo substitute is Walmart's Great Value version – tastes like the real deal!
When reading ingredients, look for wheat flour that can be added to thicken or barley malt syrup that is added for sweetness. Neither of these ingredients are gluten free.
Heads up: Blue Bell adds wheat flour to their ice cream, even plain chocolate and vanilla.
Without further adieu, here are the top gluten free ice cream brands that you can easily find in your local grocery store freezer:
This is our go-to ice cream brand since the package is clearly labeled gluten free and they carry lots of flavors (over 30 flavors to be exact). Also, they sell their ice cream in 1.5 quart sizes compared to those small pints that seem to disappear ever so quickly.
An awesome brand for gluten free goers because they provide allergen information on their site in an easy-to-find format. Just choose your filters and you'll see a long list of options.
Gelato that's gluten free amazing-ness. They sell their products in pints and quarts with so many flavors you'll have a hard time deciding.
*They also carry a non-dairy sorbetto for those that avoid dairy as well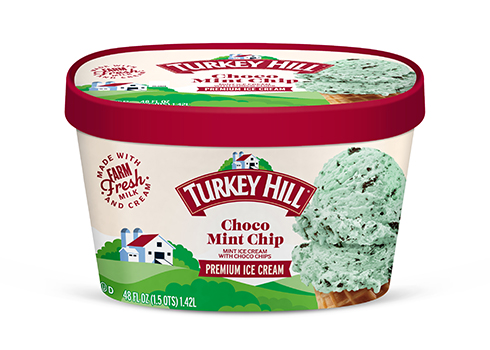 With so many gluten free flavors sold in 1.5 quart containers, Turkey Hill® is another great option. You can filter by dietary preference to see what they have to offer.
Great alternative to a bowl of ice cream, Dove® makes a killer ice cream bar. Their creamy chocolate is second to none.
Missing a good ice cream cone?
Not always easy to find, but gluten free versions of cake and sugar cones are also out there. I've had luck at Fresh Thyme and Target but Amazon also sells them too. Both of these brands offer cake and sugar cones.